Anemone Wedding Flower Theme Ideas
The anemone is a beautiful flower and a great choice for weddings. It is a perennial plant that is between 20 and 40 centimetres tall. The flowers bloom signgly, each one on a tall stem with a small amount of leaves attached. The anemone flower can be anywhere between 3 and 8cms tall. Perfect for bouquets and available in a variety of colours to suit any wedding theme.
Anemone flowers also look fantastic as table centrepieces. They lend a lovely modern vibe to the atmosphere and their pretty frilly shape is just stunning.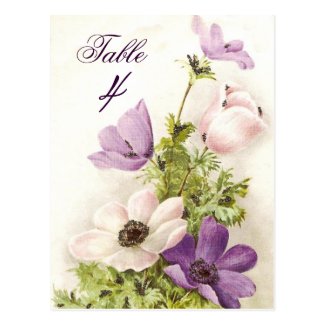 Vintage Anemone Postcard
by
whaleriders6
Make your own
postcards custom
at Zazzle
www.sdweddingstyle.com
,
burnettsboards.com
,
www.kelleeflowers.com.au
,
www.onewed.com
,
sweetvioletbride.com
)